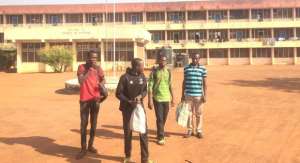 Students of the Tamale School of Hygiene in the Northern Region have started leaving the campus to register their displeasure over government's failure to pay their allowances.
When DAILY GUIDE visited the Tamale School of Hygiene in the Northern Region, the students were seen leaving the school for their various homes.
The over 900 students of the various schools of hygiene have resolved to stay out of the classroom to press home their demand for their allowances.
DAILY GUIDE gathered that students of the various school of hygiene across the country were asked to go through some processes in order to get their allowances after several meetings with the Ministry of Health and other stakeholders.
They were asked to open bank accounts, register for Ezwich cards and fill some forms so as to receive their allowances.
However, the payments have not been made by the government.
Last week, students of the Schools of Hygiene schools across the country embarked on a peaceful demonstration over their allowances.
Speaking to DAILY GUIDE, the SRC President of the Tamale School of Hygiene, Joseph Adams, said the government has failed to fulfill its promise to pay the allowances.
Mr. Adams stated that the students, especially those coming from other parts of the country, use the allowances to finance their education.
According to him, the delay in the payment of their allowances has brought untold hardship to them.
"We gave the school authorities an ultimatum and today all the students will leave to our various homes."
Meanwhile, students of the Tamale School of Hygiene are expected to sit for their end of semester examinations next week.
Efforts to contact the school's management to comment on the matter proved futile.