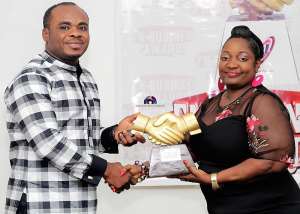 Reverend Moses Bennisan has received an Honorary Award at the 1st FN Business Awards held on Saturday, December 2, 2017, at the Golf Suites Hotel, Kisseman.
The Founder of Dream Big Business Consult received the 'Entrepreneurial & Talent Development Star Personality Award' for his unparalleled contributions to Youth Entrepreneurship and wealth creation.
According to the organizers of the FN Business Awards, Reverend Moses Bennisan through Dream Big Business Consult has contributed immensely to entrepreneurship in Ghana among the youths.
His citation reads;
"Over the years, you have consistently created a niche for yourself in Entrepreneurship, youth and talent development in Ghana.
Through Dream Big Business Concept and its flagship programs and seminars, more and more youth have acquired the requisite skills, knowledge, and guidance to start their own businesses.
Your earnest and unparallel passion to raise billionaires in Africa compelled you to organize conferences like; Raising billionaires, eradicating poverty, and think like a billionaire across the continent of Africa
The Dream Big Institute has also helped sensitizes more youths in the country with the right mindset for harnessing talents.
Your books; Dream Big, Raising Billionaires and Financial Independence have become entrepreneur guide for everyone.
Earlier this year, you had the opportunity to meet the First Lady of Ghana, Mrs Rebecca Nana Akuffo Addo Danquah. Internationally, you have been recognized and had the opportunity of meeting the Vice President of Nigeria, H.E. Oluyemi Oluleke "Yemi" Osinbajo.
We at FN Business Awards have recognized your immense contributions towards entrepreneurship in Ghana and we conferred on you this honorary award as the Entrepreneurial And Talent Development personality star Award at Ghana at 60 celebrations."
Reverend Moses Bennisan who doubles as the Founder and Leader of Family Altar in his acceptance speech commended the organizers of the awards.
He also advised the youth to take their businesses serious.
Meanwhile, the FN Business Awards is an annual scheme that has been instituted by FN Network to recognize and celebrate growing Ghanaian Businesses, SMEs, Startups, and Personalities making great impacts in Ghana.