A delegation of MTN Ghana Foundation officials and consultants has visited Nhyiaeso near Agogo in the Ashanti Region where it is due to construct a 6-unit classroom block for the local District Assembly Basic School.
The foundation approved funding for the project following a Joy News Agenda story which highlighted the plight of teachers and pupils in dilapidated structures.
Students who trek long distances to attend school in other towns are exposed to danger, including sexual assault.
Tuesday's trip by the MTN Foundation delegation to Nhyiaeso in the Asante-Akyem North District marks the beginning of work.
"Per our practice, we have to come and engage our stakeholders together with our consultants who will have to check and verify the technical details that have to be done in order to get us moving with the project. And so that's why we are here today," says Advisor for Education Portfolio at MTN Ghana, Ebenezer Terkpeh.
The project is expected to cost thousands of Ghana cedis.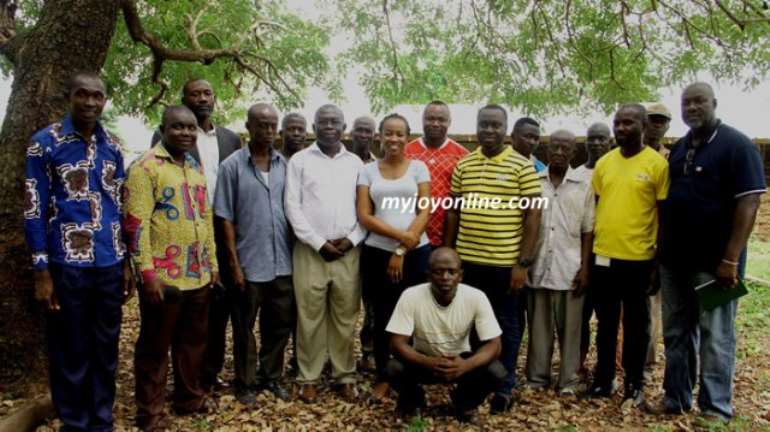 It is anticipated to bring relief to teachers and children who trek several kilometers to nearly Ananekrom for Junior High School education.
The visiting team was overwhelmed by the plight of children and the level of deprivation at Nhyiaeso.
Mr. Terkpeh says MTN Ghana Foundation will do more to improve education infrastructure in Nhyiaeso.
"It's mixed feelings. I feel excited and as well as surprised at the level of infrastructure provision here. I think it's an eye opener for me. I first heard it in a report but now you are seeing it for yourself. You see the dilapidated nature of classrooms being used by the students. It makes you think that you need to do more to help the community. Because really the need help. And that is why MTN Foundation wants to come in, in this situation," he said.
For the people of Nhyiaeso, news of MTN Ghana Foundation's is a timely intervention.
Assemblyman for Ananekrom , Peter Abaji, whose tireless effort at getting the school building fixed would receive some respite with MTN's intervention.
He has been pushing for improved classroom infrastructure after the assembly approved a budget for the project about nine years ago.
"When I first heard the news. I was doubting. But for now, it has come into reality so am much happy and then, appreciate whatever MTN is to do for us," he said.
Chief linguist, Nana Yaw Kwarteng, says it is the first major gesture from any organization in the community's history.