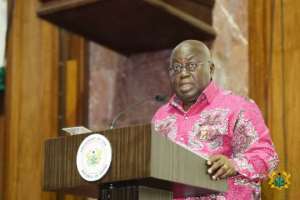 President Nana Addo Dankwa Akufo-Addo has been hailed for giving all the three Members of Parliament (MP) from Tema, appointments while party pioneers were remembered for their abiding faith in multi-party democracy.
While the MPs for Tema West and Tema Central, Mr Carlos Kingsley Ahenkorah and Mr Kofi Brako are a source of gratitude, Tema East's Titus Glover is seen as the real gem.
A number of colleague Ministers had joined the Tema MPs at a ceremony to honour pioneers of the ruling New Patriotic Party (NPP) as well as commission a new party office built by Mr Glover.
The programme, dubbed: 'Honouring of Heroes' provided the platform for honouring pioneers of the NPP in Tema, including Mr Abraham Ossei Aidoo, former Majority Leader and Minister of Parliamentary Affairs, Madam Manye Ashorkor, the NPP's first ever Women's Organizer for Tema and Mr Ashitey Larbi Pro, a driver for the first ever MP for Tema, Mr Bruce Kondua.
Others were: the current Greater Accra regional Minister, Mr Ishmael Ashitey and Mr Anim Addo.
Mr Titus Glover had awarded them with various sums of money and citations for their pioneering roles in the establishment of the NPP's presence in Tema.
The Tema East MP then explained that it was important to acknowledge and celebrate the pioneers of the party in Tema because 'if today, the NPP can see so far it is because it stands on the shoulders of these gallant pioneers.'
It was said that, 'Mr Abraham Ossei Aidooh carried the NPP from Accra to Tema, and figuratively, carried the party on his head like a local female head porter 'Kayayoo' to hawk it door to door. Mr Aidooh attracted many influential people, including the current Greater Accra Regional Minister, Mr Ishmael Ashitey, into the NPP.'
Speaker after speaker praised President Akufo-Addo for appointing Titus Glover as a Deputy Minister, saying the man was an asset to the party in Tema.
Mr Oko Boye, MP for Ledzokuku recounted how, when he had first been invited to the Flagstaff House, it had taken Titus Glover to break the ice for him, guiding him into the acquaintance of the party's leaders at the seat of government.
Other dignitaries included the Minister of Fisheries, Madam Elizabeth Afoley Quaye, Deputy Minister for the Interior, Mr Henry Quartey and Mr Felix Mensah Annang-La, Tema Metropolitan Chief Executive.
Other guests who attended were Solomon Sackitey a mayoral nominee, Nene Ofoe Teye, Tema East NPP Chairman and Mr Stephen Ashitey Adjei, alias Moshake, an Executive Member of Tema East NDC, DCEs as well as Assembly Members.
Mr Adjei told journalists after the event that even though he was NDC, it was important that praise was given where it was due.
He said, Titus Glover, Lawyer Abraham Ossei Aidooh, Ishmael Ashitey and others have indeed been assets for the youth of the party in Tema as had been pointed out by some speakers, adding that it was not only the youth but the whole party in Tema that has benefited from their leadership.
He said the decision to award heroes of the NPP was also in order because such acknowledgements encourage others to sacrifice for their parties.
'I can also say that Hon. Titus Glover, Lawyer Abraham Ossei Aidooh and Ishmael Ashitey have really put Tema on the map. Tema is very popular because of them,' he said.
The occasion was graced by the Tema Mantse, Dr. Nii Adjei Kraku ll and the Stool Secretary for the Tema Traditional Council, Nii Amarh Somponu.