Once again, Nordic Ghana Investment Services (NorGhis) would make Ghana exceptionally visible at this year's Nordic-African Business Summit in Oslo on October 26. This Business Summit is the single largest Nordic Business Conference focusing exclusively on African markets in the Nordic Countries (Denmark, Finland, Iceland, Norway and Sweden, including Greenland, the Faroe Islands, and the Åland Islands).
The theme for this year's Summit is "How to Invest in Africa's Transition"; and His Excellency Dr. Mahamadu Bawumia, is a keynote invitee. Messers Rich Ocloo, Francis Kwamena Acquah and Tete Kobla Agbota have made this invitation possible. They formed NorGhis in 2011 with the goal to make Ghana a visible investment destination for investors and businesses from Norway and other Nordic Countries. According to Tete Kobla Agbota, the CEO of NorGhis, a central strategy to achieve this aim has been to get prominent Ghanaians as keynote invitees to Nordic-African Business Summit.
Besides making it possible for prominent Ghanaians to be keynote invitees to the Business Summit NorGhis relays information on business to authorities to advance the interest of Ghana. "For instance, when we had the information that Norfund, the Norwegian Investment Fund for Developing Countries had decided to open an office in West Africa, we alerted President Mahama. We relayed what we have done for the office to be located in Accra. Acting upon this information, he met with the main decision makers when he was in Oslo in 2014. Norway's Ambassador to Ghana, Ms. Hege Hertzberg also gave us support in this respect. Eminent Ghanaians that have been to the Nordic Business Summit are His Excellency President John Dramani Mahama, Hon. Fiifi Fiavi Kwettey and last but not the least His Majesty, the Asantehene Otumfuor Osei Tutu II. Mr. Agbota disclosed that it has not been an easy job getting these prominent persons to Oslo; it requires hard work, perseverance, patriotism, dedication and a 'large portion' of voluntary spirit.
We are grateful that Mr. Eivind Fjeldstad, the CEO of Norwegian African Business Association (NABA) agreed to invite His Excellency Vice President Mahamadu Bawumia as the Keynote Speaker for the 2017 Summit. NorGhis would be responsible for organizing the special session for businesses and investors interested in Ghana.
To the question on how NorGhis maintains its contact with the Ghanaian market, Mr. Acquah said they have built a network of reliable individuals and organizations in Ghana, because to be a relevant conduit between investors and projects you need reliable partners in Ghana who can identify investment opportunities. For instance, we have cooperation with INNOHUB Ghana via Mr. Nelson Amo and with Debenture Trust Company Ghana Ltd., via Mr. George Ahiafor and Mr. Kwaku Agbottah.
On what message NorGhis has for the Vice President, Mr. Ocloo underscored the comparative advantage of Norway in Oil and Gas and Aquaculture. He disclosed NorGhis has plans on how these two areas can be harnessed to create wealth, jobs and reduce poverty.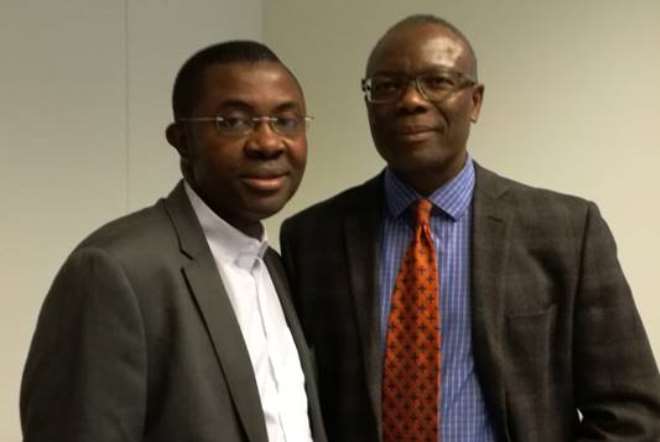 Francis(left) Tete Kobla(right)