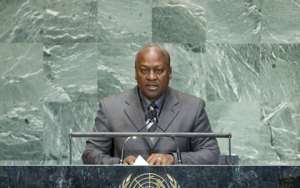 President John Mahama has bemoaned the low value of trade amongst African countries, saying African leaders must open up their borders to boost their economy and create jobs for the teeming youth.
He is worried at the rate at which most of the countinent's youth are crossing the Sahara at the peril of their lives for better living conditions in the West.
The former President was addressing a seminar to commemorate the 10th Anniversary of the adoption of the African Charter on Democracy, Elections and Governance in Pretoria, South Africa.
The ex-president admitted the potential challenges in opening up the borders of each country for free trade but added that is the way to go to solving some of the economic challenges facing the country.
"There is a value of trade amongst ourselves…. The difficulty of opening the borders to trading amongst ourselves is something that one cannot understand.
"If we must remove some of the challenges that Africa faces, then let's open the borders and allow our people to move freely, allow goods and services to move freely across the continent," he said.
According to the ex-president, the youth in the continent risk being auctioned as slaves if steps are not taken to provide the congenial environment for trade and keep the youth engaged.
"If we don't accelerate the pace of economic growth and throw up the essential jobs that will keep the youth engaged, then we have the kind of situation where you have our young people struggling to cross the Sahara being auctioned as slaves in Libya or die trying to cross the Mediterranean," he stated.