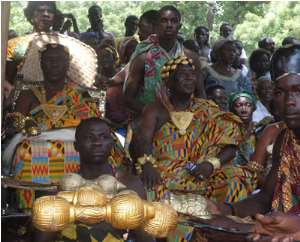 Nana Mprah Besemuna III, Paramount Chief of Krachi has said the Krachi areas would not support the breakaway agenda of members of the Homeland Study Group, a secessionist movement agitating independence of a 'Western Togoland'.
'We in Krachi towns have nothing to do with them. They came here and we drove them away. Ghana is one and that issue had been determined and gone', he stated.
Nana Besemuna said this when Dr Archibald Yao Letsa, the Volta Regional Minister who was on a working tour of the region, paid a courtesy call on him.
He said the breakaway efforts were aimed at destabilising the region and dispelled rumours that Krachi chiefs were in support of the effort.
Nana Besemuna advised chiefs to desist from 'hard political leanings' and support government to develop their areas.
He expressed appreciation to government for expediting efforts at creating new regions, saying it would ensure fair and balanced distribution of development.
Nana Besemuna said factions kicking against the creation of a proposed Oti Region got it wrong, because the 'saviour project' would develop the new regions, same way the creation of new districts did.
He said chiefs in the area were aware there would be hurdles to the process and were ready to overcome and added that discrepancies over the name and capital of new regions were premature.
Nana Besemuna said the Krachi Traditional Council had secured 10 square kilometres of land for the Planting for Food and Jobs programme and asked for an irrigation project for the area.
Dr. Letsa commended the chiefs for their efforts at supporting various developmental projects in the area, notably in the health and educational sectors and pledged to ensure the area had its share of the national cake.