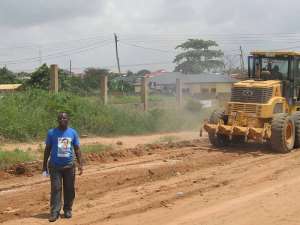 Works has commenced on a 40 kilometer access road which stretches from Bulemin junction off Gbawe Zero- Gonse road through to Bulemin last stop, a community located in Weija-Gbawe Constituency in the Greater Accra Region of Ghana.
The works on the said stretch of access road in the constituency involves reshaping and leveling to make the road accessible to humans and vehicles. The reshaping and leveling of the road is part on an ongoing works on access roads in the constituency.
It can recalled that on Friday October 13, 2017, the State woman through the Hon. Joseph Nyarni Stephen deployed heavy duty machines on Tetegu access roads to reshape and level all pot holes on the said road to make it accessible, pending to be graveled in due course. The works on the said road is part of the stop gap measure initiated by Hon. Tina Naa Ayeley Mensah to make some roads mapped out accessible.
The current repair works On the Bulemin road is being facilitated by the Ga South Municipal Assembly in colloboration with Hon. Tina Naa Ayeley Mensah, the MP for the area and also Deputy Health Minister.
In a close up interview with the indefatigable state woman, she expressed her appreciation to the Municipal Chief Executive for Ga South Municipal Assembly, Hon. Joseph Nyarni Stephen for his swift response to move heavy duty machines to the site to reshape and level the Bulemin road road to make it motorable and accessible.
The access road which saw some works in the latter part of December, 2016 under the New Democratic Congress (NDC), but abandoned after losing power has seen massive repairs works.
"I am happy the said road will soon see major construction works after the reshaping and leveling works" she said. I have received several complains on the said 40 kilometer road since I assumed the seat as member of Parliament for area, particular the constituency, she stated. She could not hide her joy at the repair works on the Bulemin road." I can now sleep a bit", she remarked.
She seized the opportunity to informed constituents in other communities whose roads are in bad shape to exercise some restraints since plan are far advanced to carried out works on all roads in the constituency to make them accessible to humans and vehicles.