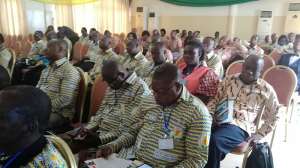 Medical Superintendents of Ghana have expressed concern about the poor state of healthcare systems in the country.
The Association indicated that, lack of funding and investments in the health sector, is taking a toll on the quality of health delivery at various health centres in the country.
Currently, Ghana is investing 3.6 percent of its GDP in health services delivery, as compared to other countries in Africa like South Africa and Sierra Leone, who are investing 8.8 and 11.1 percent respectively.
Speaking to Citi News on the sidelines of the 25th Annual District Directors of Health Services Group Conference on the theme "Improved Decision Making at The Primary Care Level, Using Information Technology for Health Systems Strengthening", the National President of the Medical Superintendents Group Of Ghana, Dr. Joseph Tambil, indicated that, the lack of funding in the health sector by successive governments has contributed to the poor state of health care system.
"The problems with the health system are many, however on our part, the key challenges that we have has to do with the funding gap. Health care funding in Ghana is such a huge problem, and it is not new. It dates back to the 80's. Ghana is currently doing less than 5% of our GDP on healthcare. The countries that we are seeking to emulate; Cuba, United States and Britain, are doing not less than 12 %. Cuba is doing about 17 % of GDP, United States is doing about 15%, and Britain is doing about 12%."
"We are doing less than 5 percent, so it means if we have to catch up with these countries, we have to triple our efforts so that we can catch up. We are doing a lot of innovation, but if that bottleneck of funding is not addressed, all our efforts will be derailed."
He added that, most district health facilities in the country do not qualify to be hospitals as equipment being used in those facilities are below standards.
"The effects are everywhere for you to see. You go to any government hospital and the infrastructure is not suitable to be called a hospital. Very few hospitals in this country are qualified to be called district or even regional hospitals. The situation is so bad. The equipment we use are about 20 years old. It is obsolete" he lamented.
"The human resource we have is not properly trained for delivery of health care in a modern or transitional society like ours. There are CHPSS compounds that are held under sheds and the community health officials who work in these compounds do not have anywhere to lay their heads and this is demotivating."
Dr. Tambil therefore called on government to prioritize the health sector and invest heavily in the sector and not rely on donor funding from European countries.
–
By: Nii Amartey Kanarku/citifmonline.com/Ghana