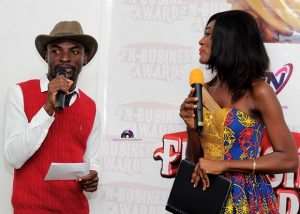 The maiden edition of the FN Business (FNB) Awards came off at the Golf Suites Hotel, Kisseman on Saturday, December 2, 2017, in grand style.
The prestigious and colourful event brought together astute business leaders, entrepreneurs and organizations under one roof.
The FN Business Awards is an annual scheme that has been instituted by FN Network to recognize and celebrate growing Ghanaian Businesses, SMEs, Startups, and Personalities making great impacts in Ghana.
Jessy GH, Bobby JR and Kofi Biso took turns to thrilled patrons at the event with epic musical performances.
Reverend Moses Bennisan of Dream Big Consult and Dr Raphael Nyarkotey Obu were conferred with honoraries.
There were 8 contested categories and winners selected through 30% Online voting and 70% Jury. Two Honoraries were conferred too.
Check out the full list of winners for FN Business Awards 2017 below:
RISING YOUNG MEDICAL STAR/ WRITER PERSONALITY AWARD
RAPHAEL NYARKOTEY OBU
YOUTH & TALENT DEVELOPMENT STAR PERSONALITY AWARD
REV. MOSES BENNISAN
ONLINE BUSINESS OF THE YEAR, 2017
PIZAREA
ONLINE BROADCASTING OF THE YEAR, 2017
LENS RADIO
PHOTOGRAPHY & VIDEOGRAPHY OF THE YEAR, 2017
CEDI PICTURES
FASHION HOUSE OF THE YEAR, 2017
JENNY BEADS & TRAINING CENTER
EVENTS MANAGEMENT OF THE YEAR, 2017
SUPREME AFRICA Limited
FOOD & BEVERAGE BUSINESS OF THE YEAR, 2017
JOENAA CAKES & BAKES
SOCIAL ENTERPRISE OF THE YEAR, 2017
MEN'S HEALTH FOUNDATION
CELEBRITY FOUNDATION OF THE YEAR, 2017
BERLA MUNDI FOUNDATION