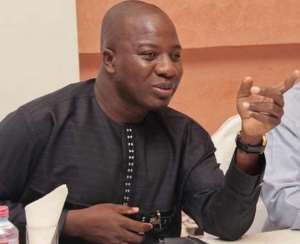 It is rather absurd for the National Democratic Congress' Member of Parliament for Bawku-Central, Mr. Mahama Ayariga, to be calling for victims of last Saturday's Atomic Junction deadly explosions to sue the owners of the gas stations involved for monetary compensation, knowing full well that as the immediate-past Minister of the Environment, Science and Technology, it was his own gross dereliction of paid official duty that caused the tragedy that resulted in the deaths of at least 8 people and the injury of some 140 people (See "Atomic Explosion: Don't Give Tax Money to Victims – Mahama Ayariga" Starrfmonline.com / Ghanaweb.com 10/11/17).
We must also quickly note that Mr. Ayariga has gone on record as having alleged that it was NDC government operatives who prevented the appropriate safety measures from being put in place to forestall the sort of tragedy that occurred near the campus of the country's flagship academy, the University of Ghana. And so, if, indeed, the notorious Mahama wag would rather have the owners of the gas stations torched at the Atomic Junction sued for compensation by the victims of this reportedly avoidable tragedy, then he had better be prepared to be heftily sued for monetary compensation as well.
This is because from what we have learned, so far, it clearly appears that the negligence in maintaining and enforcing environmental safety regulations and standards falls squarely at the doorsteps of both the owners of the gas stations involved and the Environmental Protection Agency (EPA), whose division of the central government was until recently headed by the Bawku-Central NDC-MP. But, of course, the question that ought to concern the Ghanaian public and taxpayer more than anything else, is why Mr. Ayariga is not advocating for the operatives of the Mills-Mahama regime of the National Democratic Congress (NDC) who criminally created the wasteful culture of Judgment Debts to equally pay for their criminal behavior, rather than having the innocent and hardworking Ghanaian taxpayer pay for the same.
In other words, Mr. Ayariga cannot so facilely and cavalierly presume to dictate for the Ghanaian citizenry how justice ought to be enforced in the country. I mean, is this sort of unpardonably grotesque application of justice what the Bawku-Central NDC parliamentary mole learned at Harvard University? Rather, what we need to be discussing here is why the leaders of the Rawlings-minted main opposition National Democratic Congress shamelessly created and enforced a criminal culture of official negligence over the past 10 years, as well as the swiftest and most constructive means of bringing the culprits to book as a means of definitively stanching this abominable culture of decadence and bestial regression of our moral values as a people and a nation.
*Visit my blog at: kwameokoampaahoofe.wordpress.com Ghanaffairs