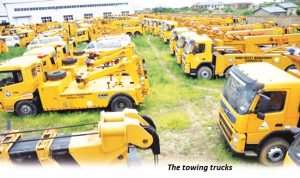 It is often said that many Ghanaians don't read and so many things that Ghanaian Citizens ought to know are most of the time brought to their attention by the Media. Ghana has a Road Safety Policy which was developed by the National Road Safety Commission (NRSC). Amongst the mission of the NRSC is the implementation and monitoring of data-led road safety interventions.
The NRSC lists a number of challenges that affect road safety in Ghana including poor driving knowledge, poor vehicle maintenance, old national vehicle fleet which are poorly maintained, poor vehicle examination, licensing and driver training among others.
In fact, the document categorizes the number of challenges that we face as a country in our road transport sector under The Driver, The Vehicle, The Road to mention a few. I want to ask the NRSC and DVLA; is the implementation of the compulsory vehicle towing levy in Ghana data-led?
Under "The Driver", the National Road Safety Policy Document (NRSPD) stated that various studies in Ghana have established that human error is the most cited contributory factor to road traffic crashes accounting for some 70 - 93%.
What has been done to tackle this significant challenge? Does a compulsory vehicle towing levy address this human error factor? In fact, the document goes on to state that our own road designs contribute to the errors that drivers make on the road leading to crashes and fatalities. What has been done by the Managers of our road infrastructure to address this challenge?
Under "The Vehicle", the NRSPD states that Ghana's vehicle fleet ranges from very new to very old ones and most of them are not well maintained. It is further captured that a large number of old vehicles either have missing, malfunctioning or not functioning at all components and these poorly serviced or maintained vehicles result in frequent breakdowns.
So by the NRSPD, the frequent breakdown of vehicles on our roads and highways for which reason they want to levy all Ghanaian drivers or vehicle owners is as a result of poor servicing or maintenance. So why are the Managers of our road transport sector not addressing the main challenge of poor servicing and maintenance but choosing to address the end product of poor servicing and maintenance of vehicles in Ghana? This is like having a burst water pipe and instead of getting a plumber to fix the pipe; you choose to rather bring in a polytank to collect the gushing water for sale to make profit.
Under "The Road" network, the NRSPD states that Ghana has 64,000 kms of roads with only 11,000 kms(17.2%) tarred whiles 53,000 kms (82.8%) untarred. Meanwhile, over 95% of all inland passenger &freight traffic use these roads contributing significantly to transport related crashes. Ghanaians are forced every six months or twelve months to take their vehicles to the Driver & Vehicle Licensing Authority (DVLA) or its accredited agents and pay for their vehicles to be certified as road worthy but are the roads being used vehicle worthy? This is the sort of injustice being perpetrated on Ghanaians and to put the final nail into the coffin, some private interest in collaboration with some State Actors want to profit from broken down vehicles whose breakdown was also as a result of the use of these vehicle unworthy roads in Ghana.
As a citizen, I'm not against our country having an effective vehicle towing services at designated points on our highways and other major roads. In fact, it is long overdue but what majority of Ghanaian road users (myself inclusive) are against is the way the Authorities (spectators) are choosing to implement this system. Even before the Government of Ghana through the Road or Transport Ministry decided to put a hold on the implementation of this policy, none of the authorities have been able to tell us a single country where this compulsory vehicle towing levy is being implemented either in Africa or the rest of the World. As a country, we always learn from best practices elsewhere before bringing in some policy to address a similar challenge that we face as a country.
So I ask; where did the DVLA, NRSC, POLICE MTTD and Road Safety Management Services Limited (RSMSL) learn this implementation module from? Currently, there are private towing service providers in our Country. I have seen around these modified KIA Trucks and others being used to tow vehicles that have broken down on the road to the workshop. Kumasi Metropolitan Assembly (KMA) has towing vehicles that moves within the Central Business District (CBD) of Adum to tow vehicles that are wrongly parked to their yard. Who pays for these towing services? Is it the vehicle owner or a taxi driver sitting at Nkawkwa taxi station and not knowing what is going on in Adum-Kumasi? Ghanaians and owners of vehicles in this country will continue to insist that vehicle towing is not like Health Insurance like I have heard some of the Authorities pushing this argument and we also want to remind the Authorities that vehicle ownership is not a luxury in Ghana as its being perceived. Majority of Ghanaian private vehicle owners both in the formal & informal sector own these vehicles as a matter of necessity and not luxury because of our poor and inefficient public transport system. In other countries such as the UK, vehicle owner voluntarily register with towing companies so that in case they have a breakdown on the road, they quickly call them for assistance and the cost of towing is fully paid by the vehicle owner and not another driver who is minding his own business somewhere in Manchester.
The use of the recent unfortunate accident involving the players and officials of Kumasi Asante Kotoko FC on the Kumasi-Accra road to resurrect this compulsory vehicle towing levy argument by Roland Walker who speaks for RSMSL and the police MTTD is weak and lame. We have laws and road safety regulations that tell drivers what to do in case your vehicle breaks down on the road. Do we enforce them? I have seen broken down vehicles being fixed by mechanics right in the middle of the road with the police MTTD, DVLA and NRSC looking on unconcerned. Is that lawful?
As a country, I believe we must prioritize our road safety challenges and address them from the most challenging to the least and not vice versa as we are witnessing now with the compulsory implementation of this vehicle towing levy which seeks only to enrich a private pocket at the expense of Ghanaians. I would like to commend His Excellency The President of the Republic of Ghana and the Roads Ministry for halting this unjust vehicle towing levy because as somebody who led the famous "Kumepreko Demostration" against what he saw at the time as an unjust tax being forced on Ghanaians, it would have been strange if the President allowed this compulsory vehicle towing levy to kick start. This injustice must not be re-invented by those who seek to always take advantage of our challenges as a Nation to make money out of Ghanaians.
Badu-Boateng Ernest
(Concerned Citizen & Vehicle Owner)
Kumasi – Ghana
Phone: 0269517126