It was a moment of surprise for the head teachers and entire staff of Ahenema Kokoben D/A 'A' and 'B' schools when the new queen mother of Ahenema Kokoben in the Atwima Kwanwoma district of the Ashanti region paid a surprise visit to them at the school premises on Wednesday.
The astonished head teacher of D/A JHS 'A' who could not hide his delight for the visit welcomed Nanahemaa on behalf of the whole staff. This was in fulfillment of a pledge the queen mother made to the teachers when they paid a courtesy call on her at her palace to officially welcome her as the newly enstooled queen of the Ahenema Kokoben township.
In her address, Nana Agyeimaa Akenten II said, she saw it as a need to visit them as teachers to know how they and their jobs are faring and also admonish them not to relent on their job as teachers and make sure they will work all their hearts out to the betterment of the students. She expressed joy as she said all teachers were busily stuck in their respective class teaching when she arrived. "I am happy to see all teachers in their various classrooms teaching when I arrived here. It shows that you are up and doing on the job and it must continue this way until the success we seek to achieve has come. I am retired teacher and I know the challenges teachers go through everyday. Sometimes parents do not buy books and the needed materials for their wards but will always push their children to come to school to burden teachers. It is painful but please, exercise patience with us and continue to give your best to this country", the queen mother said.
Again, she stated that, " I did not come here just to waste your time or interfere in your duty today but I see it as a task for me to always come so that we can all discuss issues of importance bothering this school and the way forward. This school is in my town and I shall be the first point of honor for every positive impact the school makes and the opposite so it is of great concern to me and my family as well as the people I represent to always see this school move in the right direction".
Speaking on behalf of the entire staff, the head teacher of D/A Primary 'B', Mr. Isaac Asante also expressed their happiness to have Nanahemaa in their midst. He took the opportunity to ask for more of such visits as it opens the door for teachers to tell Nananom the problems of their school for onward solutions.
In his speech, some problems the schools were facing could not be left out. He stated, "Nana, it may surprise you to know that we have students who are learning under trees in this school. There are inadequate classrooms to accommodate all our students so we have no choice. Even those available are hugely overcrowded. Furniture too is a big problem here, no toilet for teachers, no staff common room so we do everything under these trees. Students are meant to share chairs because they are insufficient.
The KG classroom is so dusty and it is an eyesore to see that a big town like Kokoben which shares immediate boundary with Kumasi is experiencing such things. We have made several strides and appeals to the appropriate offices but a few has been done so we count on you, Nana, to also help push for more developments to be brought here. We are very much grateful to have you this afternoon".
The queen mother in her response also pledged to do all that she can to carry the problems she has come to see and hear to appropriate authorities for redress. "What I have come to hear and see today is very pathetic, it is not worthy of us as a people and I promise to do all that I can to see many of these problems addressed if not all in the due course". She again called on the teachers to always be regular at her office so that they can all address the needs of the school when necessary.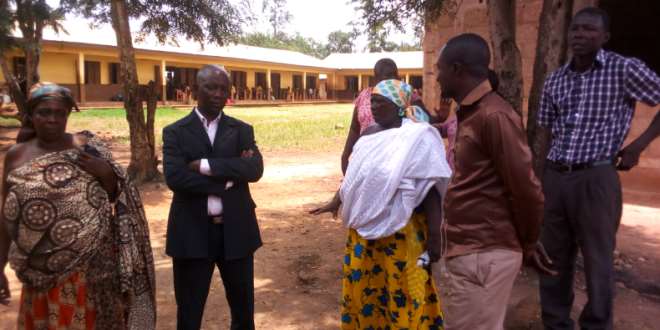 2017-09-21 164920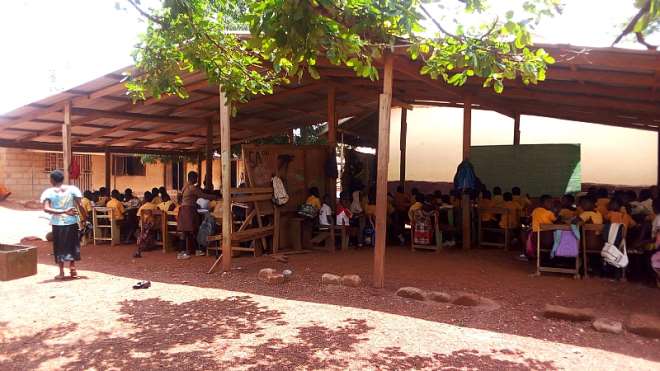 Img 20170920 115927